Hello Potomac Pathfinders!
There is updated information as of 4/13/2019!!!
It is time to register to attend the 2019 Potomac Pathfinder Fair.
Check your calendars.  It is set to happen on May 5, 2019 at the Takoma Academy campus.  Below is the Flyer for the Fair.  It includes a list of times and activities.  Please take time to click on it to see the full sized downloadable PDF.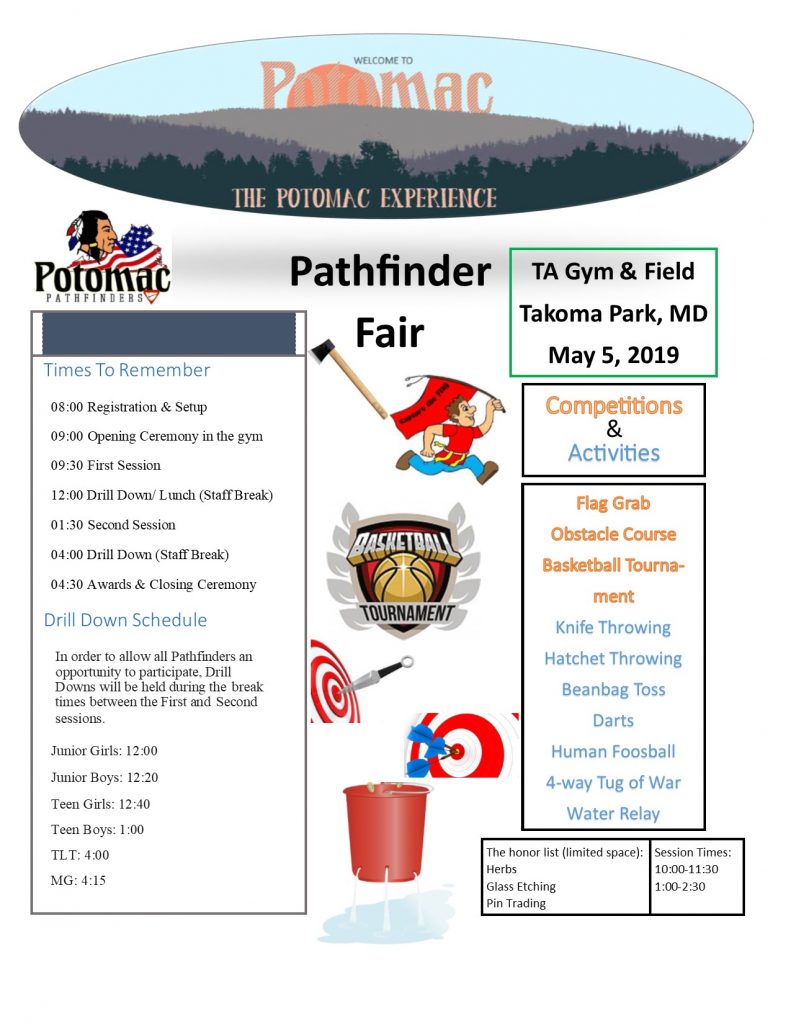 Honors will be taught at several places on campus that day.  Locations will be given at that time.  Those honors will be:
Herbs
Glass Etching
Pin Trading
Club Discounts for Volunteers
We need volunteers to make this Fair a success.  Volunteers will help with site setup.  We are asking that all volunteers:
Arrive on site at Takoma Academy at 7 am sharp to assist with the site setup and will  be required to sign in at 7am.
Plan on working until no earlier than 6 pm. At that time they will sign out in order to receive the $12 credit to your club's registration per volunteer.
A  maximum discount total of $24 dollars will be credited to each club's registration for 2 or more volunteers.
Clubs are welcome to bring more than 2 volunteers to work at the fair but will not receive extra discounts to your club registration for having more volunteers.
All adult volunteers must be Verified Volunteer Compliant and have had their background check option marked in the system.
Verified Volunteer Compliance
We are asking all clubs not to bring adult volunteers on site to help the conference and/or pathfinder clubs who have not gone through the Verified Volunteer training and background check. This compromises the safety of our pathfinders and destroys the integrity of the process the North American Division has put in place for our kids.
TLT Volunteers
We request that TLTs to sign up at the TLT volunteer station to work for 4 hours per TLT for the Pathfinder Fair event.  TLT need to sign up and sign out at the TLT table in order to receive volunteer hours.  If you have special volunteer forms from your respective high schools, please bring them at that time to be filled out.
Registration Forms
Please register for the fair by filling out and emailing your club registration and the food booth forms.  You will find links below to the forms.