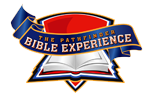 The Pathfinder Bible Experience (PBE) is an extra-curricular activity that introduces Pathfinders to Bible study through a trivia-style testing.
Each year a book or books are assigned for study and then Pathfinders are tested in three different levels of testing to advance on to the final round of testing along with other teams from the North American Division and Great Britain. While PBE may be perceived as a competition, Pathfinders are actually challenging themselves more than they are competing against other teams or clubs because everyone has an equal opportunity to achieve a first place position at every level.
2019 Study Books
The Gospel According to St. Luke
2019  Testing Dates:
Potomac Area Testing- January 26, 2019
Potomac Conference Testing- February 23, 2019
Columbia Union Testing- March 16, 2019 (Potomac Conference)
North American Division Testing- April 26-27, 2019 (Rockford, Illinois)
PBE Forms:
2019 PBE Club Application- Club Registration- one form per club, due November 30, 2018. Submit via email to:  nancyc@pcsda.org
2019 PBE Team Registration – one form per team due January 26, 2019. Submit to:  potomac.pbe@gmail.com
PBE_Videography Photography Release Form – one form per participant, submit at Area testing site on January 26, 2019.
Statement of Integrity– One per club, submit each form on January 26; February 23, and March 16, 2019 at each level testing site.
Luke Practice Questions