NASA Goddard Launches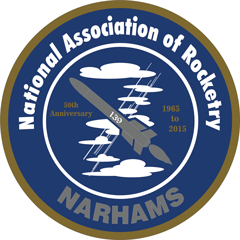 As we prepare for the 2018-2019 Pathfinder year, we note that many clubs wish to introduce the Model Rocketry Honor but don't have the facilities or expertise necessary for a safe launch. NARHAMS supports the oldest public model rocket demonstration launches in the United States.  These launches have been part of the NASA Goddard Visitor Center programs since 1976.
The launches are held on the first Sunday of each month at NASA's Goddard Space Flight Center, starting at 1 pm. Anyone who wishes to fly at these events may do so. Visitors may bring and prepare their own models; a group safety briefing is given at 1:00pm, and models are given a preflight safety assessment. They allow single-engine models that must not exceed D-class models. 1/2A or A models work best for their field. Due to the limited recovery area. the flying of high power models and untested designs is discouraged.They do not permit models whose altitude may exceed 2,000 feet, nor do they normally allow glider models.
If you have any questions, please contact the NASA Goddard Visitor Center front desk at 301-286-8981.
Weather decisions will be made the day of the launch — to check the status of a launch, please contact the Visitor Center front desk.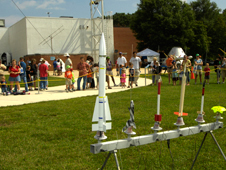 Sources used for this blog:
https://www.nasa.gov/centers/goddard/visitor/contactus/index.html
https://www.nasa.gov/centers/goddard/visitor/events/rocket_launch.html